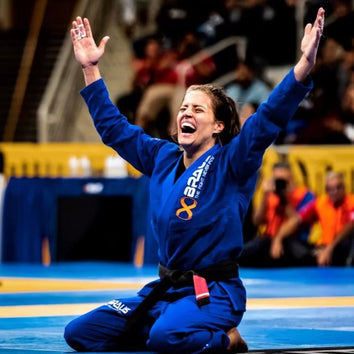 ANA CAROLINA SCHMITT
BLACK BELT
Ana Carolina Schmitt is a Brazilian jiu-jitsu black belt under coach Marcos Cunha, having also worked extensively with coaches such as Juliano Wandalen and Letícia Ribeiro. Ana Carolina is widely regarded as one of the top female grapplers of her generation, having conquered important titles in tournaments such as the International Brazilian Jiu-Jitsu Federation's World and South American Championships.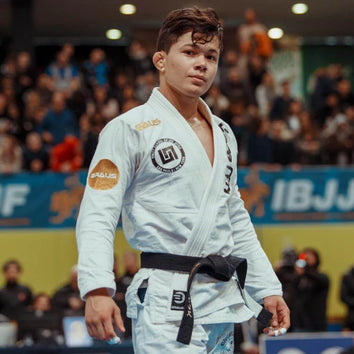 THALISON VITORINO SOARES​
BLACK BELT
Thalison Soares is a Brazilian jiu-jitsu black belt under Cicero Costha and a representative of the Projeto Social Lutando Pelo Bem (PSLPB) Team, who worked extensively with Murilo Santana (Unity BJJ). Thalison gained notoriety within the grappling circuit after his very first year competing internationally, as a juvenile blue belt, when he displayed an unusual amount of talent. His brilliance on the mat continued throughout the colored belt divisions where Thalison conquered repeated International Brazilian Jiu-Jitsu Federation (IBJJF) Grand Slam (Euro, Pan, Brazilian and World titles) for THREE (3) years in a row.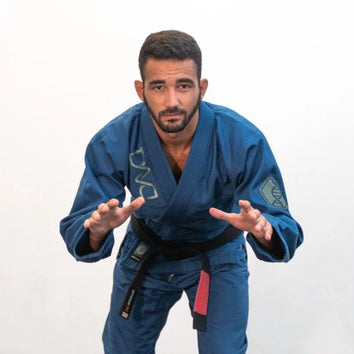 YAGO ESPINDOLA
BLACK BELT
Yago started training when he was 3 years old with his dad's master (Luiz Carlos) in Rio de Janeiro, Brazil. At the age of 8 he started to train with his dad (Tadeu Espindola) in his school at the time Gracie Humaita, also in Rio. When he was 19 (purple belt) he moved to San Diego – CA to train and compete (Gracie Humaita) where he stayed for almost 5 years (2013 to 2018). He was promoted to black belt in San Diego at the age of 23 by his dad, but when he was in Brazil Leticia Ribeiro was the one who actually promoted Yago. He was Gracie Humaita his whole life and around one year after he got his black belt he moved to Atos where he stayed for 7 months before going back to Brazil in 2018.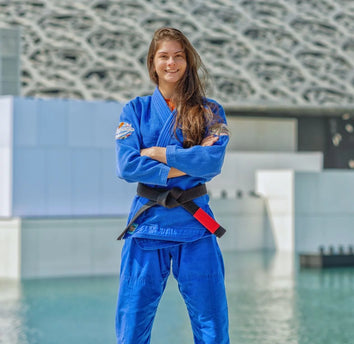 Maria Eduardo Tozoni Ono, better known as Duda Tozoni in the Jiu-JItsu world, stood out still as a brown belt on the international stage after winning a AJP Grand Slam against black belts and then being called to join one of the BJJBet cards. Trained by professor Marcos Cunha, Duda teaches and make their training routine at TMC, in Blumenau, the city where she was born and made her first step in Jiu-Jitsu, through his father, a fan of the sport, at the age of 11. Duda graduated to black belt in June 2021, at age 19.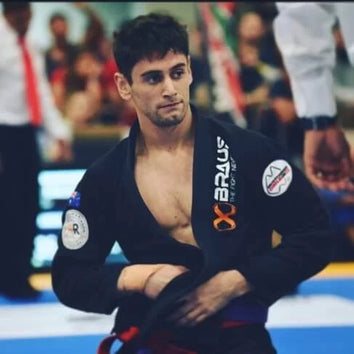 Black belt under Cicero Costha. He started Jiu Jitsu at the age of 15 in Melbourne under Daniel Shaw. At the age of 18 he moved to Sydney to train under Daniel Sainty and Dave Brooksbank, then at the age of 21 he moved to Garage Jiu Jitsu to train under Gui Neves and joined the Braus Team. At the age of 22 he finished his Physiotherapy degree and has now begun to properly dedicate his time to Jiu Jitsu.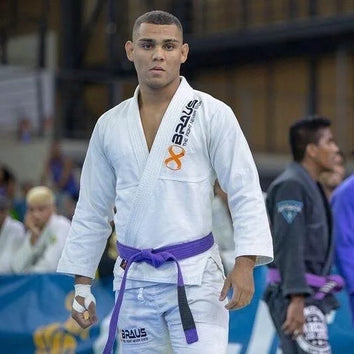 CATRIEL OLIVEIRA
BLACK BELT
Gfteam athlete and student of Júlio dos Anjos and Edinho. Is currently black belt with a great desire to be world champion. Starting Jiu Jitsu in 2012 under the influence of the school, where they were advised the sport was a way to help him with discipline and respect. It didn't take long to fall in love with BJJ and since then has made the decision to live on the sport, collecting titles in major Jiu Jitsu federations. At the age of 19, Catriel continues to play an increasingly motivated game, always fighting hard, doing his best to make his dreams come true, give his family a great future and be a great example not only as an athlete but as a role model for his child.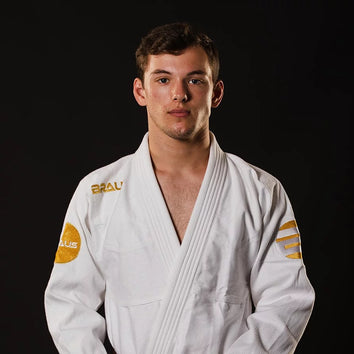 COOPER BURNHAM
BLACK BELT
Cooper Burnham is a Brazilian Jiu Jitsu brown belt under Thiago Stefanutti out of Absolute MMA. Cooper started training in 2012 in rural Australia and then moved to Melbourne in 2016 to further his Jiu Jitsu. Being a competitor since the beginning, Cooper has amassed many titles Nationally and Internationally over the years and is constantly looking for the next competition to test himself in. Cooper has medalled at the World Championships as a juvenile several times and has won Nationals and the Pan Pacific Championships as an adult.
Leonardo Da Silva Guimaraes is a Black belt from GFTeam under Max Gimenis. He moved from Brazil to USA in 2019 to chase his dream. Leonardo was born in Rio de Janeiro, Brazil. Leo has won and medalled in the IBJJF Pan and World Championships (two bronze, 1 silver) and is a multiple time IBJJF International Open Champion.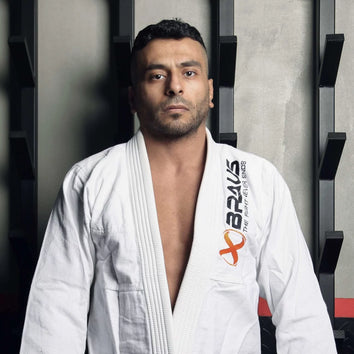 MUSAAD ``SHEIK`` ALTURIF
BROWN BELT
Musaad "Sheik" AlTurif bjj Brown belt under Eduardo Telles and Represents nine nine jiu-jitsu Team, worked extensively with Marco Barbosa (Barbosa jiu-jitsu), Herman Gutierrez -and Fernando "jaspion" kioshi. Wining multiple Grand slam competitions in both (IBJJF) and (uaejjf) such as South America (IBJJF) Grand slam Moscow, Tokyo, London, Rio de Janeiro (uaejjf) Ranked number one in 2019 (uaejjf)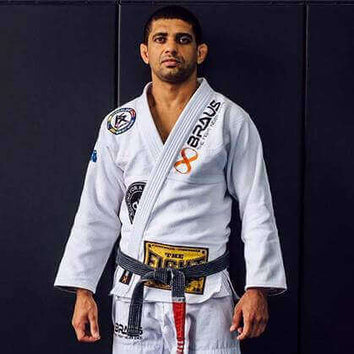 ALEXANDRE SANTOS
BLACK BELT
BJJ Black belt 3rd Degree Lineage; Mitsuyo Maeda > Carlos Gracie > Carlos Gracie Jnr. > Helio Soneca > Alexandre Santos. Alexandre is founder and head coach at Cia Paulista North Melbourne. His extensive knowledge, experience and respect for BJJ has developed him into a well-respected coach and athlete within the BJJ community. Alexandre aspires to help people achieve their very best selves by teaching them the many benefits of a BJJ lifestyle.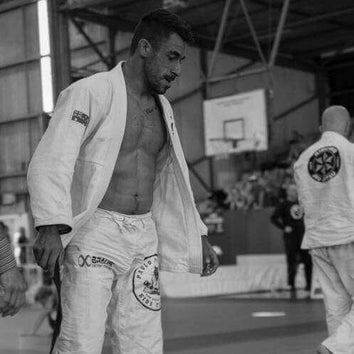 PAULO HENRIQUE POLIMENO
BLACK BELT
Now black belt, Paulo Henrique Polimeno, began his training in 1996 under Elico Figueiredo at Integration JiuJitsu Sao Paulo, Brazil. In 2010 he moved to Australia where he enjoyed a few years experiencing different gyms and teams including, Fight Club, Galeb Brothers and South Side before co-founding Flow Martial Arts in 2014 with student and friend Ryann Crearry. Now he spends his days sharing his knowledge with his students and training at any chance he gets.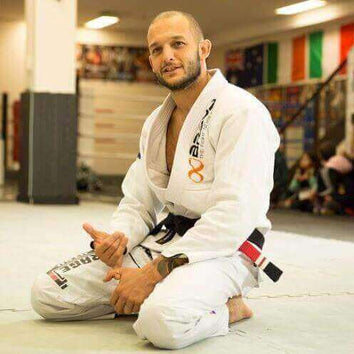 GUILHERME DA SILVEIRA NEVES
BLACK BELT
BJJ Black belt under the master Paulo Sergio Santos and Alcino Seibt. Gui is the founder and coach at Garage Jiu Jitsu, located in Bondi Junction. He has been teaching since 2002. As a student, he learned to love the art, and now as a professor, he is sharing his passion for Jiu Jitsu with his athletes. Gui is an inspiring teacher and many of his students have become national champions and international competitors.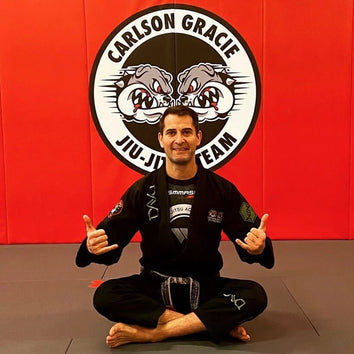 Ben Hall is the Head Instructor of the Carlson Gracie Team in Australia, having been awarded his brown belt by Carlson Gracie Snr and later his black belt by Carlson Gracie Jr, in 2007. It was during one of his many training trips to the original Carlson Gracie Academy in Copacabana, Brazil, that Ben was asked to officially represent the Carlson Gracie Team in Australia. Whilst representing the Carlson Gracie Team, Ben has had success as a competitor at State, National and International competitions as well as competing with the best Jiu Jitsu athletes in the world at the Mundial Championships in Brazil.
DANIEL ``JACARE`` ALMEIDA
BLACK BELT
BJJ Black belt under Professor Bruno Bastos, Daniel Almeida is the founder and Head Coach at Gold Coast BJJ located on the Gold Coast, QLD He has been teaching since 2000. He started Jiu Jitsu in 1992 and he believes that Jiu Jitsu is more than just a Martial Art, it is a lifestyle. As an athlete Daniel Almeida has won multiple titles including NAGA World Champion; 2x Bronze Medallist NOGI Worlds; 4x Pan Pacific Champion; 4x Austrálian National Champion; Asian Champion; 4x Brazilian National Champion. Daniel believes that he needs to lead by example, trying always to do things to inspire his students.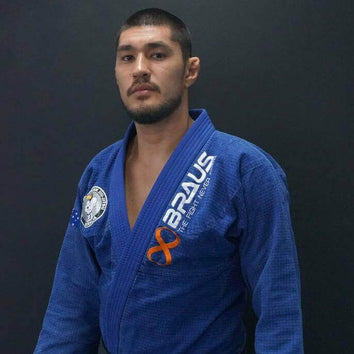 MINOL TAVARES TUTIDA
BLACK BELT
BJJ Black Belt 3rd Degree from Rio de Janeiro, Brazil under the Red Belt Grand Master Wilson Mattos. He came from the unique Fadda lineage which has no connections with the Gracie's. Lineage; Mitsuyo Maeda > Luiz Franca > Oswaldo Baptista Fadda > Wilson Pereira Mattos > Minol Tavares Tutida. Minol moved to Japan with his parents and started training BJJ when he was 15 years old. He has also fought MMA in a few events called DEEP 2001 which was the same organization as Pride. Minol is the founder and head coach at Equipe Mestre Wilson Jiu-Jitsu Australia. Minol's favourite phrase is "Victory is always possible for the person who refuses to stop fighting" which is written on the wall at his club's Melbourne HQ.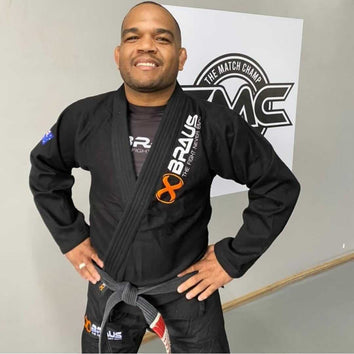 Marcos Cunha is a Brazilian Jiu-Jitsu 4th degree black belt under André Marola. He is also the leader of The Match Champ, a team that has produced big names in the Jiu-Jitsu competitive scene, such as Duda Tozoni and Ana Carolina Schmitt. Coming from humble beginnings, Marcos understands the importance of helping those who can't help themselves and has founded the UCLA social project, which aims to support young athletes who don't have the means to fund their careers and allow them to turn their lives around through Jiu-Jitsu.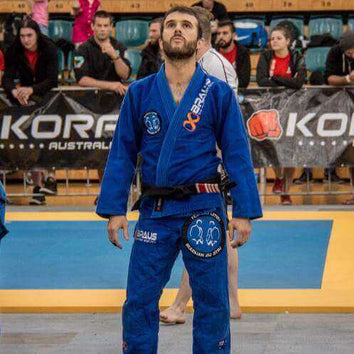 MARCEL LETERI SASSO DE OLIVEIRA
BLACK BELT
Marcel is a 3rd Degree BJJ Black Belt from São Paulo, Brazil and has been training BJJ since 1997, receiving his Black Belt in 2007 from Professor Rick Kowarick of Cia Paulista Jiu Jitsu (Rickson Gracie > Marcelo Behring > Waldomiro Perez Jr) With over 8 years of experience teaching and running his own gym (Fratelli Leteri) in Italy, he currently teaches in Melbourne, Australia at DMD'S MMA and Martial Spirit in Brunswick. He is actively involved in the BJJ scene in Australia, both as a competitor, coach and a referee.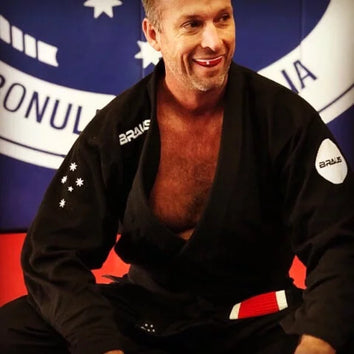 STEVE CLIFFORD
BLACK BELT
Black belt under Rodney Ellis and coach at Southern Cross Jiu-Jitsu Academy, Steve started Judo in 1982 and Jiu Jitsu in 2009. Steve holds a black belt in both grappling disciplines – the inspiration behind the name for his crew, Team Double Black, in Cronulla NSW. Steve was also the co-founder of Gerijitsu in 2013, which is an over 35 years training format designed for masters athletes with an emphasis on enjoyment and training jiu jitsu into their later years. He coaches both Jiu Jitsu and Judo at SCJJA and uses every opportunity he can to promote both sports and the way of life and rewards they provide.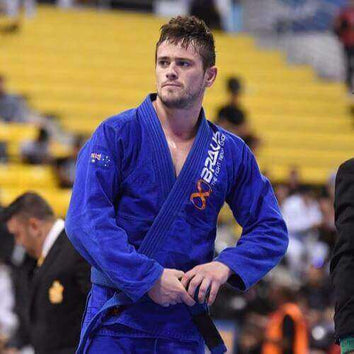 Brown belt out of SKAMMA gym (Peter De Been Jiu Jitsu). He trains under both Bob Watson and David Kemp. He started training in July 2012 and after 3 months of training, he won his first competition as a white belt at a small in-club competition. Since getting his blue belt in 2014, he came second in the Asian Open 2015, won the open weight for Pan Pacs 2015 and most recently, won the Abu Dhabi Trials securing himself a trip to the Abu Dhabi World Pro. Adam is determined to become world champion and aspires to open his own gym one day allowing him to teach and train BJJ full time.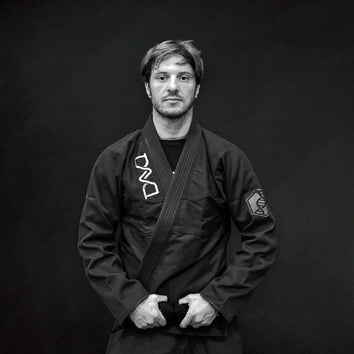 RICHARD GONCALVES
BLACK BELT
Richard Goncalves is a black belt from Luiz Henrique Saldanha. Richard started training Jiu Jitsu in 2001, however due to work and university he had to stop training for a few years. When he decided to return to training, he was very successful and was one of the best purple belts in the world, winning several titles. Since purple belt, he has been present at the biggest championships, as world and pan-american champion. Today he is head coach of Juggernaut Martial arts, a brand led by former UFC fighter Mark Hunt.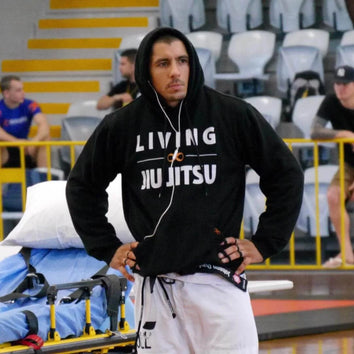 Johann Davis is a Brazilian Jiu Jitsu black belt under his father and Judo and Jiu Jistu black belt as well as MMA manager, Alex Davis. He was raised on a jiu jitsu mat since birth and carries a lifetime of experience training, competing and teaching all around the world with passages in North and South America, Africa, Europe and Australia.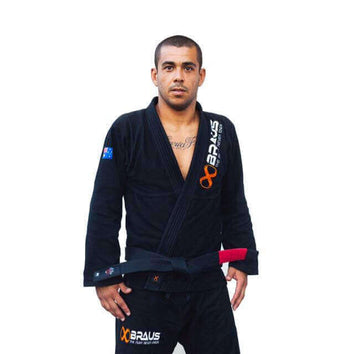 THIAGO MACHADO DE CASTRO
BLACK BELT
Black belt under Marcus Almeida (Buchecha), he started training Jiu Jitsu in 2000 with his Master João Teco Shinzato in Santos City, Brazil. He moved to Australia in 2011and since then his focus has been on his lifestyle, surf and Jiu Jitsu. He is currently a Head Coach at Checkmat Brazilian Jiu Jitsu, Tweed Heads, where he spends most of his time teaching adults and kids, which is one of his passions.
Born and raised in Singapore and currently living in Sydney, Australia, Winston discovered jiujitsu during his undergraduate studies in Sydney and never looked back. Training out of Garage jiujitsu Bondi Junction under Gui Neves, Winston is a regular in the local competition scene but has his sights on the international stage. Through his achievements in BJJ, Winston aims to one day inspire others to work hard, truly pursue their dreams and attain fulfillment in their lives. "Competition brings out the best in myself and my opponent. Win, lose or draw, the end result is irrelevant when you have prepared the best you can and have truly given it your all."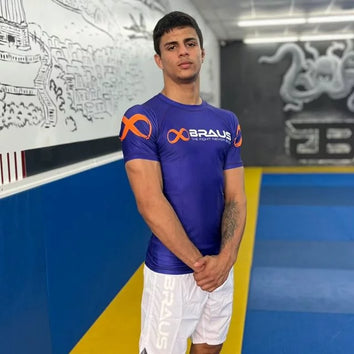 GUSTAVO SANTOS
PURPLE BELT
My name is Gustavo Santos. I am a Checkmat athlete, and here in the USA, I train with Professor Chico Mendes at gulf breeze, I am 20 years old, and I have been training since I was ten when I started in a social project in Espírito Santo with master Silas Caldas, my greatest I dream of jiu-jitsu and being able to provide a better condition for my family and for that I have the goal of winning all the biggest jiu-jitsu championships as a black belt. Currently, I am a purple belt and thank God I am managing to stand out in all competitions that I'm fighting, this year I became the Pan American Gi champion, American national Gi champion, third in the world Gi, second in Pan Nogi and now I'm going to end the year looking for the Nogi world where I'm feeling very prepared and with the best support that could have BRAUS.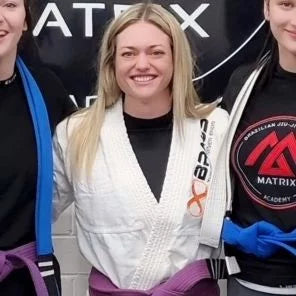 CHARMAINE THOMPSON
BROWN BELT
I'm a brown belt and have been training for eight years. For the most part, I have trained at matrix MMA In South Australia, which is under Australian Elite Team. I'm a full time working mother of 2 as well as being one of the coaches at matrix, and I will compete where I can fit in! I'm passionate about making Adelaide's jiu jitsu scene one that is comfortable and welcoming for any woman looking to learn the art!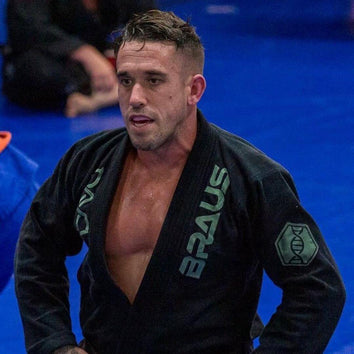 Holding both a brown belt in Jiu Jitsu under Rodney Ellis and a brown belt in Judo under Steve and Jim Clifford, Ryan has always exhibited a strong passion for competition and the lifestyle aspects of BJJ. He combines this with 25+ years of strength and conditioning qualifications and experience. Ryan has immersed himself in everything that martial arts has to offer, traveling to all corners of the globe to experience training and competition – making incredible friendships along the way. Ryan has created a grapplers/mma practitioners nutritional paradise with his Cronulla cafe 'Primal Joe's', which provides athletes with the best in delicious nutritious meals, rapidly becoming a must visit venue for the fighters of southern Sydney.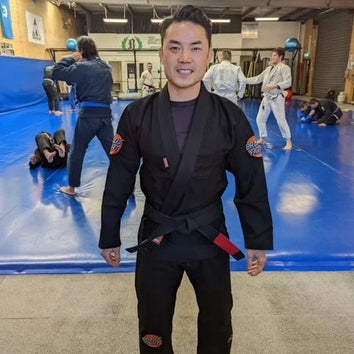 Jason Ng is a black belt with a Hong Kong heritage and born in Perth, Australia. He has been training BJJ since 2011, receiving his Brown Belt in 2018 from Professor Jamie Murray of Australian Elite Team (Roberto Godoi > Gustavo Falciroli > Ninos Dammos > Jamie Murray) He has over 8 years of BJJ competition experience and currently trains in Melbourne at both Renegade MMA and Australian Elite Team HQ. He is currently the leading Australian Masters Brown Belt sitting at #1 of the 2019 AFBJJ leader board and has ambitions to be a Master's World Champion in 2020. Jason is passionate about the sport and is eager to see the benefits transpire amongst kids in both Australia and Hong Kong. Once his competition days are over he has ambitions to dedicate his time to the growth of BJJ.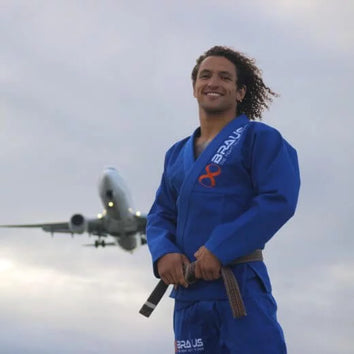 Alan is a black belt under Leonidas Gondim, of LGsystem Team at SSA – BA -BRA. He believes in BJJ as a weapon of freedom from social pressures. Since he dropped his career as a lawyer in Brazil, he's travelled to over 15 countries around the world with only BJJ and surf in his bag. He is a practitioner of the "free roller" lifestyle. Currently based on the Gold Coast, Australia, living in his van and training Jiu Jitsu every day.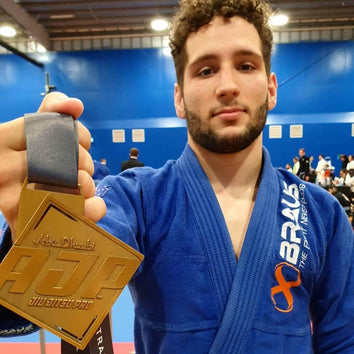 MICHAEL DE MARCO
BLACK BELT
Michael De Marco is a black belt under Australian MMA pioneer Anthony Perosh. He started training Jiu Jitsu at the age of 6 at SPMA in Concord and has been competing ever since. He has competed globally and domestically, and won Pan Pacfic, National and State titles. Now that he has finished his Commerce Degree he looks invest his days more so on the mats, in the hopes of achieving all his goals.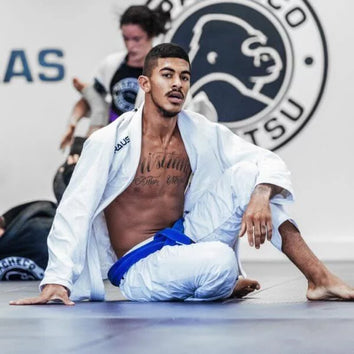 WESLEY PACHECO
BROWN BELT
Brown belt under Diogenes Pacheco from Guigo JJ in São Paulo Brazil – Wesley has been training constantly since 2016 when he moved to Australia. Prior to arriving in Australia, he started training Jiu Jitsu at Guigo JJ, but was forced to stop training as he lived too far away from the gym. He then started training in a social project that the church near to his house offered but didn't take it seriously. After a while he decided to stop. When he came to Australia he returned to consistent training and with that, won vice champion Pan Pacific IBJJF 2016 White belt, NSW state champion, ABJJF weight and absolute division white belt 2017, blue belt: 2x champion Grappling Industries 2018, 3rd place at Sydney Open 2018 IBJJF, vice champion Gi and No Gi NSW state 2018.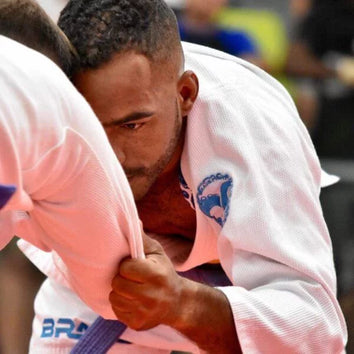 RONALDO MENDES DOS SANTOS
BROWN BELT
Brown Belt under Yoshi from Caza BJJ. Ronaldo started Jiu Jitsu when he was 32 years old (2017) and gained a taste for the sport at Fight Club under Shane Poppleton in Brisbane. At the beginning of 2018, he and his family moved to Noosa on the Sunshine Coast. He had his first comp a month after starting Jiu Jitsu, and since then has not stopped competing. He has competed Internationally, in competitions such as the Pan Pacs as well as many local and national comps. In 2017 he was ranked number 2 in QLD as a white belt and in 2018 he was ranked number 1 in QLD, Number 5 in Australia's national rankings and number 3 at the Pan Pacs 2018. The inspiration for his game comes from the old style of Jiu Jitsu, especially the movements of the great Fernando Terere, and wants to show everyone that OLD JIU JITSU still works with the highest level of competitor.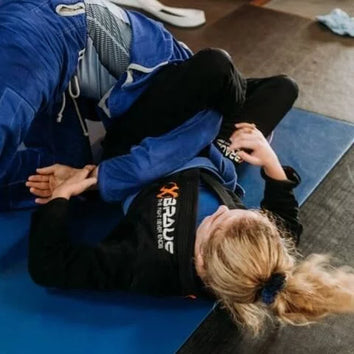 WINONA RUMBLE
PURPLE BELT
Winona Rumble is a BJJ competitor under Professor Felipe Faria, training out of Armidale Brazilian Jiu Jitsu in NSW, Australia. Winona started her BJJ journey in January 2018, and since then has become a committed student and competitor. Over the last three years, Winona has medalled at numerous regional and state BJJ Championships, including QLD State and Grappling Industries. Winona has quickly become a role model for female students and kids at the gym. Her unparalleled commitment and intelligent approach to the game make her a top competitor. Her warm and friendly personality make her a beloved kids' coach.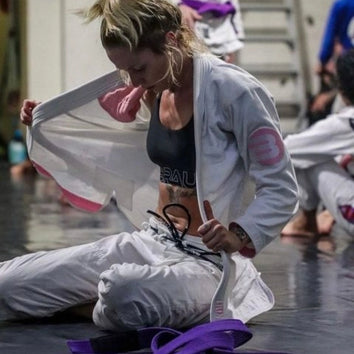 JESSIE GUNNER
PURPLE BELT
essie Gunner is a purple belt under Keller Locke-sodhi at Grappling Education. Jessie started her jiujitsu journey in March 2018 and since then has taken out various state titles in NSW, VIC and Queensland as well as regularly competes on subversion jiujtsu and other various super fight events. Besides training and competing jiujitsu, Jessie also has a passion for working in jiujtsu. Besides coaching kids and running Grappling Education she also works here with us at Braus looking after sales and our ambassador program.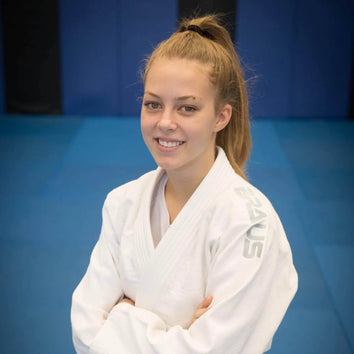 CHARISMA TAYLOR
BROWN BELT
Charisma Taylor is a BJJ Competitor under Bruno Lemos, training out of Alliance Jiu-Jitsu Brisbane, Australia. With an impressive record including 3 x Pan Pacific and 4 x Australian Championships since 2012. Since starting her martial arts journey at the age of 10, Charisma has approached her training with enthusiasm and dedication. She enjoyed competing right from the beginning, winning her first Adult State Championship at the age of 15. Charisma strives for continual improvement and has included Judo to her training regime and is now on the verge of international Judo representation. With Charisma's dedication to training and her strong mental fortitude we are sure that she will achieve international success in the near future.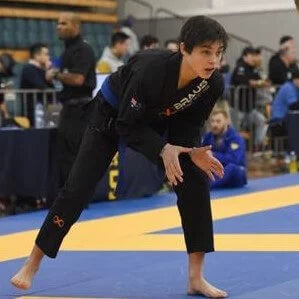 MITCHELL WICKHAM
PURPLE BELT
Purple Belt under his father Matthew Wickham at Wickhams Martial Arts Centre Echuca, VIC. Mitchell started his BJJ journey in 2010 and competed for the first time in 2014 under Thiago Steffanuti at Maromba Acadamia. Mitchell is a rooster weight fighter, which has given him lots of experience competing against heavier, stronger opponents. Mitchell competes regularly around Australia and Internationally, winning multiple state titles and medalling at the 2016 Kids Worlds and 2017 IBJJF Worlds. Mitchell is very passionate about Jiu Jitsu and believes one day that he will be a multiple time world champion and UFC fighter traveling the world teaching Jiu Jitsu and martial arts.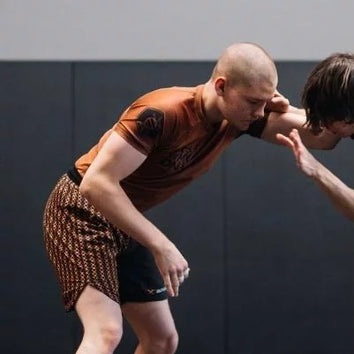 SABBATH SMRECNIK
BROWN BELT
Sabbath trains out of Infinity Martial Arts Springfield, under black belt Tyrone Coppedge. Sabbath began training in 2011. During that time, he has achieved many accomplishments including 3 Pan-Pacific titles. As he continues to develop as a grappler, he now holds a major focus on competing in invitational events. He was awarded his Brown Belt in May of 2022 at 18 years of age. Sabbath also teaches at his academy spending easily over 20 hours each week on the mats. Sabbath is fond of the worldwide community that the art of Jiu Jitsu has allowed him to be a part of. His passion for improving this community has led him to undertake a Bachelor of Physiotherapy alongside his training.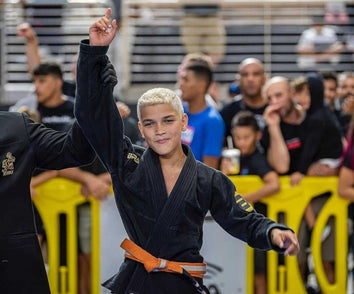 Jorge Fernandes, better known as "Jorjão", is a brazilian Jiu-Jitsu orange belt under his father Junior Fernandes. Despite being only twelve years old, Jorjão understands the sacrifices needed to make it as a professional athlete and rises to the challenge, boasting an impressive collection of titles such as two gold medals in the IBJJF's Pan Kids and the American Nationals. Training at American Top Team in Fort Lauderdale, Jorjão follows a daunting dream: Make it big as an athlete and become a world champion at the age of sixteen.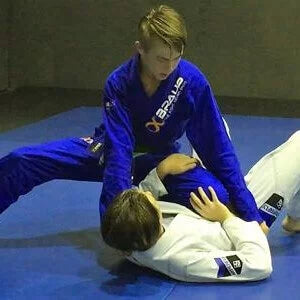 Jacob Cutler is a purple belt who trains under Professor Vicente Cavalcanti at Southside BJJ on the Gold Coast, QLD. Jacob has been training in Brazilian Jiu Jitsu since he was 8 years old and competing since he was 10 years old. Over the years Jacob has won many State and National BJJ Championships. Jacob's goal for the future is to compete in as many National and International competitions as he can. His dedication and passion for the art of BJJ is incredible, with his warm and humble personality on and off the mats being an inspiration and role model to the younger kids.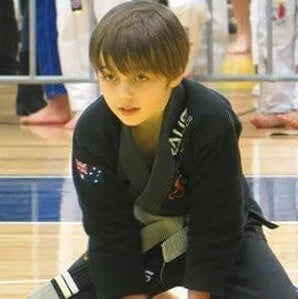 CRUZ MIKAERE CLARKIN
YELLOW BELT
Cruz Mikaere Clarkin, 11 years old, is a student of the Garage Jiu Jitsu family and has been competing under Professor Gui Neves since 2013. Learning the art in one of the most prestigious academies in Australia has seen Cruz steadily rise in passion, skill and discipline. He currently holds a yellow belt and has won multiple State, Pan Pacific and Australian titles with his finest accomplishment to date being crowned 2016 World Champion in both of his Gi and No-Gi divisions. Cruz's intense commitment to the 'gentle art' saw him featured in a campaign for Abu Dhabi Tourism, and when he's not on the mats, you'll find him playing Rugby for Waverley College.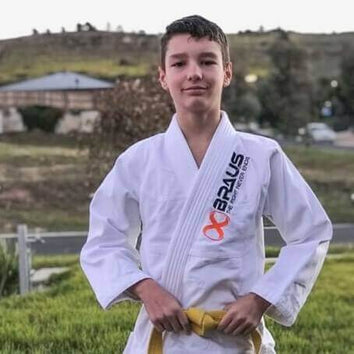 MASON GOLDING
YELLOW BELT
Mason is a 13 year old yellow belt, Melbourne based BJJ Athlete, training out of Limitless MMA under Troy Skidmore. He began his journey 3 years ago with Wickhams Martial Arts Centre in Echuca before moving to Melbourne and becoming part of the team at Limitless MMA. Training 4-5 times a week, Mason is highly passionate and dedicated to jiu jitsu and enjoys traveling Australia and competing on a regular basis. Mason's short term goals are to continue to grow as an athlete, continue to compete around Australia and to hopefully travel to America to compete in the IBJJF Kids International Championships. Mason's long term goals are to continue training and competing and to hopefully one day open up his own gym and help kids in need through Jiu Jitsu.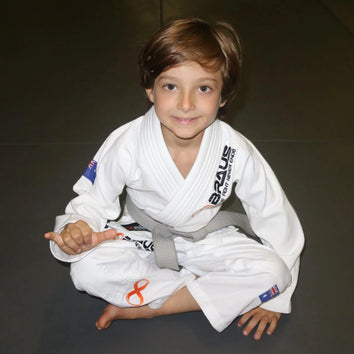 Yan started his Jiu Jitsu journey at age 3 and shortly realized he was ok at it. Within a couple of years, by the age of 5 he started competing, and since then he's been progressing and had really good results such as gold at the Pan Pacific Championships, Australian Nationals and Queensland States 2019. Yan loves training and competing and puts a lot of time and hard work in on the mats at the gym. He is definitely a Jiu Jitsu lover, enthusiastic practitioner and competitor.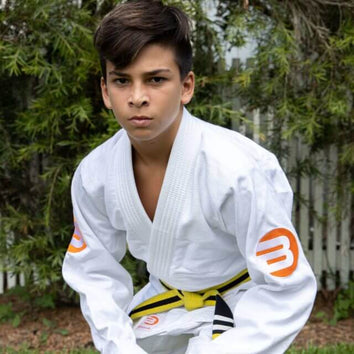 Tayron M. F. Pinto was born on January 24th in 2009 in Sydney, Australia. Although his parents are from Salvador-Bahia-Brazil. Tayron has grown up on the Northern Beaches of Sydney, as a Narrabeen local. And that's when Jiu-jitsu enter his life and changes it forever. From a very shy and unconfident child to an outgoing boy, very positive and fully confident with his abilities. Now he lives on the Gold Coast and trains at SouthSide Brazilian Jiujitsu under Vicente Cavalcanti. Tayron is known as a competitor that never gives up, with a very strong mindset and respect. Up to this date, with 85 wins on the SmoothComp, 50 submissions, Tayron is only 12 years old with a great future ahead.
KENZO KARAKAWA
PURPLE BELT
Born in Brazil but raised in Japan, his best results in competitions are titles such as: Pan kids champion, world pro champion Abu Dhabi, Grand Slam Tokyo and others. But probably his greatest achievements are in front of the campaign "autism+jiu-jitsu =potential . Kenzo starred in the first exhibition fight organized by the IBJJF in 2014. He also became the first autism carrier in history to be a pan kids and world pro champion. Currently, the brave Japanese-Brazilian blue belt continues to pursue his dreams of being a world champion and especially inspiring people with autism around the world.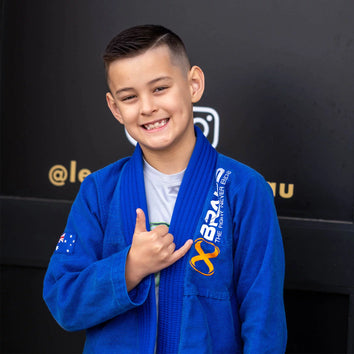 Jonah Grey is an 8 year old yellow belt training out of Legion 13 in WA. Beginning his journey at the age of 5 Jonah has excelled in the sport and has won numerous competitions. Most recently he won the 2021 AFBJJ WA State Championship, 2021 ABJJC State Titles and the 2021 FBJJWA State Titles. Jonah's commitment to the sport sees him train 5 times a week coupled with strength and conditioning training on the weekend. Jonah's focus is to further his athletic ability in BJJ and travel east to win the Pan Pacific Championships.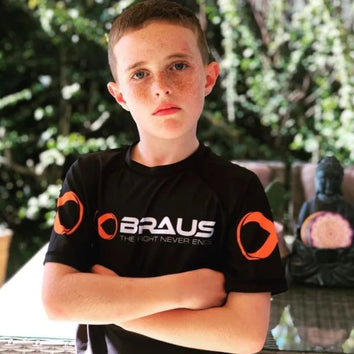 Jai is a 10yr old yellow belt who started his Jiu-jitsu journey at the age of 6 at Carlson Gracie Gold Coast under professor Fabio Soares. Although Jai is a very shy and anxious kid, he has already achieved many wins and titles over the last few years and jiujitsu has given him the confidence he needed. Jai hopes to be able to travel and compete in major jiujitsu events in the future and win some world titles. His dream is to open a gym and become a world champion.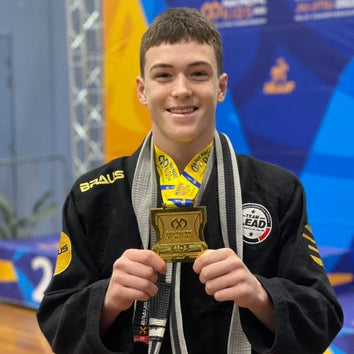 JESSE-JAMES PARR
YELLOW BELT
Jesse-James Parr, 14 years old yellow belt training under professor Daniel Almeida and Coach Dylan Bedford, fighting out of Boonchu gym in Burleigh on the Gold Coast. Having deep ambition and passion for competition, doing so at the highest level in 2022 in America at the IBJJF Pan Kids where he placed second. Also winning the state, national and Pan Pacific Championships. Also having future ambitions to become a high level MMA fighter superstar.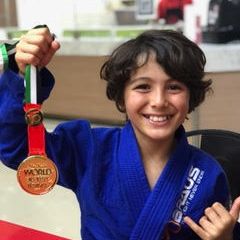 ALESSANDRO IMAMURA
GREY BELT
Alessandro Imamura, began his journey in Jiu Jitsu at age 3, but only intensified his pursuit of competitive excellence from December 2021. Training rigorously, dedicating six days a week to sharpening his skills, and engaging in private sessions, Ale competes under Professor Thalison Soares at The Academy Byron Bay. His hard work for Jiu Jitsu bore fruit with numerous victories, earning gold at prestigious events including the World's in Abu Dhabi, Pan Pacific, Australian Nationals, QLD / NSW States, and Grappling Industries in London, alongside victories in local tournaments. However, Ale's ambitions reach beyond accolades; he advocates for children's mental health, promoting a lifestyle emphasizing outdoor activities over screen time. Raised in a trilingual family, Ale is fluent in Portuguese, Italian, and English. Despite his athletic triumphs, Ale excels academically, surpassing national averages on the NAPLAN exam. A dedicated surfer and basketball player, Ale embodies talent, determination, and a commitment to a well-rounded life.