BRAUS BJJ Belts Adults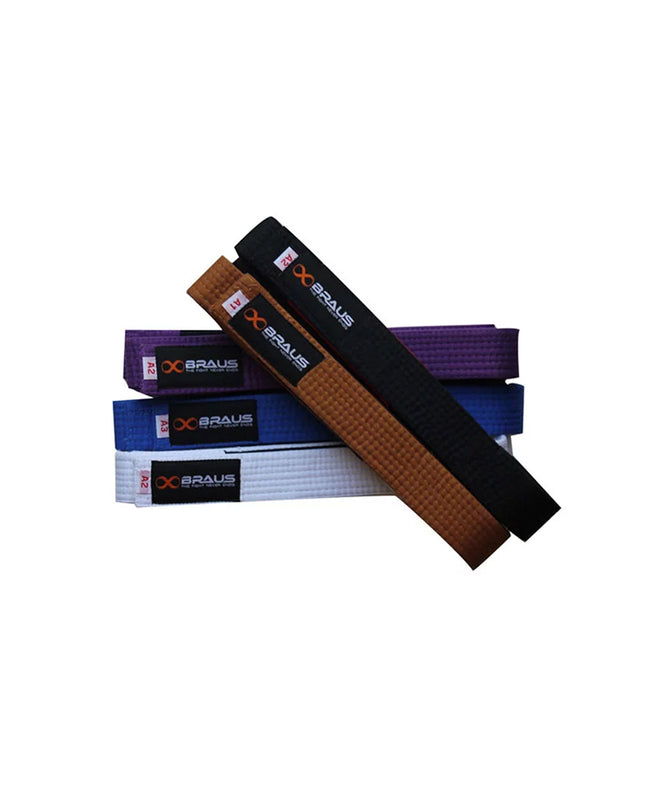 BRAUS BJJ Belts Adults

BRAUS BJJ Belts Adults

BRAUS BJJ Belts Adults

BRAUS BJJ Belts Adults
$15.96 USD
$19.96 USD
-20%

BRAUS BJJ Belts Adults

BRAUS BJJ Belts Adults

BRAUS BJJ Belts Adults
Description
Experience the true essence of BJJ with BRAUS Fight Jiu Jitsu Belts. Elevate your Brazilian Jiu-Jitsu journey with meticulously crafted belts that exceed durability, performance, and quality expectations.
Unmatched Durability and Longevity
Built to withstand the rigours of intense training and competitions, BRAUS Fight Jiu Jitsu Belts are engineered to last. Premium materials ensure our belts endure countless hours of grappling, sparring, and technique practice, retaining their integrity and aesthetic appeal under the most demanding conditions.
IBJJF Approved: A Symbol of Excellence
Committed to providing belts that meet the highest standards of the International Brazilian Jiu-Jitsu Federation (IBJJF), BRAUS Fight belts are meticulously designed to comply with their stringent requirements. Equipped with gear that meets the demands of official competitions, you embody the true spirit of BJJ.
Honouring Your Dedication: A Belt as Resilient as Your Spirit
Your BJJ fight belt is more than just training equipment; it's a tangible symbol of your dedication, perseverance, and unwavering commitment to this dynamic martial art. Each stripe and rank earned signifies your countless hours of training, personal growth, and mastery of BJJ techniques. With BRAUS Fight Jiu Jitsu Belts, you can proudly wear your achievements, knowing that your belt is as durable and resilient as your spirit.
Exceptional Comfort and Unrestricted Movement
Experience the freedom to execute your techniques with precision and confidence, knowing that your belt will never hinder your performance. Lightweight construction and soft, breathable fabric ensure exceptional comfort and unrestricted movement, allowing you to focus on mastering your BJJ skills without limitations.
A Perfect Fit for Every Athlete: Tailored to Your Needs
Understanding that every BJJ athlete has unique needs and preferences, we offer our belts in a wide range of sizes, from A0 to A5, ensuring you find the perfect fit for your body type and comfort level.
Unwavering Customer Commitment: Your Satisfaction is Our Priority
At BRAUS Fight, we believe in building lasting relationships with our customers, ensuring you have the support you need to achieve your BJJ goals. We are committed to providing exceptional products, unparalleled customer service, and a seamless online shopping experience.
Product Features:
4.5cm wide for a secure and comfortable fit

13cm black/red tip that adds a touch of style and tradition

Enhanced with special filler for the desired volume and support

Eight seams lined with high-quality standards for exceptional durability

Embroidery oven brand tag that adds a touch of authenticity

Internal filling: 95% polypropylene, 5% polyester for a blend of comfort and support

External fabric: 100% cotton for a soft and breathable feel
Invest in a Belt that Will Last a Lifetime
Elevate your BJJ journey with BRAUS Fight Jiu Jitsu Belts, the epitome of quality, durability, and performance. Order yours today and experience the unmatched difference that will accompany you every step of the way.
Sizes Chart (mm): A0 2490; A1 2590; A2 2850; A3 2950; A4 3350; A5 3550
Size Guide (mm)
SIZE
(mm)
A0
2490
A1
2590
A2
2850
A3
2950
A4
3350
A5
3550