Southern Cross BJJ Gi Army Green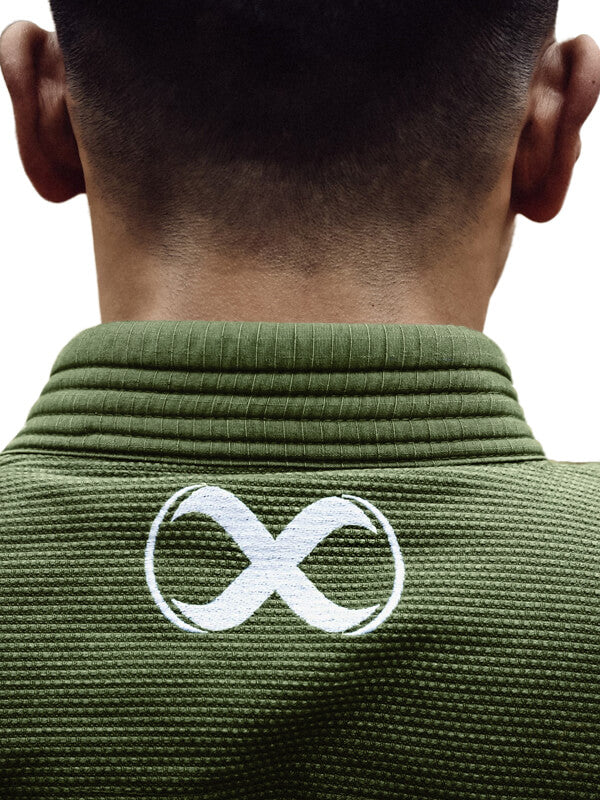 Southern Cross BJJ Gi Army Green
Southern Cross BJJ Gi Army Green
Southern Cross BJJ Gi Army Green
Southern Cross BJJ Gi Army Green
$151.96 USD
$183.96 USD
-17%
Southern Cross BJJ Gi Army Green
Southern Cross BJJ Gi Army Green
Southern Cross BJJ Gi Army Green
Description
In tribute to the unwavering spirit of warriors, introducing the Southern Cross Army Green BJJ Gi, an epitome of sophistication in our lightweight gi collection. Crafted with a blend of artistry and functionality, this gi transcends conventional limits, offering an extraordinary balance of strength, style, and comfort.
Engineered from an exceptionally light weave, surpassing even the Pro Light Gi in strength, the Southern Cross Army Green Gi is a testament to innovation. The spotlight rests on the strategically designed side vents, ensuring a superior wrap-around for an enhanced fit. It is optimal for warm climates, daily training, travel, or those favouring a featherweight competition Gi.
Note: Not approved by IBJJF for competition use, allowing you to focus on training without constraints.
Unveil the tactical advantage with the pearl weave fabric, a fortress against grip attempts. The inherent ridges and textured surface make it an elusive target, providing a substantial edge in any confrontation. The fusion of lightness and grip resistance caters to the discerning competitor seeking that extra advantage on the mat.
The Southern Cross Jiu Jitsu BJJ Gi is meticulously designed for the contemporary BJJ practitioner, employing premium cotton and pearl weave fabrics. Beyond its lightweight nature, this gi serves as a comfort haven, allowing unrestricted movement for the flawless exhibition of your skills and techniques.
Product Highlights:
Gi Jacket:
100% Ultra-soft cotton for superior comfort

400 GSM Pearl Weave fabric; Lightweight, cool, and grip-resistant

Rounded side cut with contrast colour reinforcement to prevent curling

Extra reinforced and double-stitched to withstand competition pressure and rigorous training
Gi Pants:
Reinforced stitching on key stress points

Crafted from high-quality cotton and polyester blend for durability
BRAUS Fight pledges guaranteed customer satisfaction through top-tier products, impeccable customer service, and punctual delivery of your new green steel Jiu Jitsu Gi. Elevate your BJJ experience with the Southern Cross Army Green Gi + Bag today and witness the transformative impact of a BRAUS Gi.
This emerald-hued Jiu Jitsu Gi is available in various sizes, adhering to International Brazilian Jiu Jitsu Federation standards, and purposefully designed for the passionate and modern Brazilian Jiu Jitsu athlete. Embrace the legacy of the Southern Cross Army Green BJJ Gi and revolutionise your training sessions. Order now and experience the unparalleled difference a true BRAUS Gi can make.
Size Guide

| | | |
| --- | --- | --- |
| SIZE | HEIGHT (cm) | WEIGHT (Kg) |
| A0 | 162 – 172 | 55 – 70 |
| A1 | 168 – 178 | 65 – 80 |
| A1L (Long) | 168 – 178 | 70 – 90 |
| A2 | 175 – 185 | 75 – 95 |
| A2L (Long) | 180 – 190 | 80 – 100 |
| A3 | 180 – 190 | 85 – 105 |
| A3L (Long) | 185 – 195 | 90 – 110 |
| A4 | 185 – 195 | 100 – 115 |
| A5 | 190 – 200 | 105 – 125 |
Use the above sizing chart only as a guide. Contact us for assistance if you are still determining the best size for your body type.
Please Read Here

the washing instructions to get the most out of your products and help keep them in their best condition.

We pre-shrink our Gis, but since the fabric is made of cotton, there is always extra shrinkage during washing.
All "out of stock" products have a three-week minimum delivery.
For purchases of 10 GIs or more, please get in touch for a quote through our 'Retailers Page

'.
Sensational Gi, Unreal Quality and Style
Super happy with the Gi, it's lightweight and extremely durable.
And proud to represent with the Lest we Forget on the inside